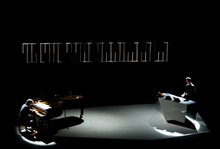 The multimedia artist Karl Kliem runs his Label "Dienststelle" in Frankfurt am Main / Germany, where he develops concert visualizations for musicians in the field of electronic music. Karl Kliem studied at the "Hochschule für Gestaltung" in Offenbach and is a founding member of "Involving Systems" as well as "meso – Digital Media Systems Design" in Frankfurt. Kliem assigns certain musical parameters to minimal- abstract visual elements, being controlled by e. g. frequency analysis. In that sense Karl Kliem does not define himself as a classical VJ; he rather explores the inherent musical components in a synaesthetical way.
Since 2001 you work together with Jan Jelinek, producing AV performances. How this collaboration had started? Are you big fan of Jelinek's music?

We met at a Schrebergarten party near Frankfurt not long after Jan had released his famous record "Loop Finding Jazz Records", which i really liked a lot. We stayed in contact and when he was asked to play a concert at the birthday party of the Robert Johnson club in Offenbach, he asked me to do the visuals.


You have collaborated also with Alva Noto & Ryuichi Sakamoto, Mouse on Mars, Thomas Brinkmann and lots of other musicians. Which collaboration are remarkable for you?

Each collaboration is remarkable on its own. It's interesting to gain an insight into the different methods and approaches of the musicians. I try to come up with visualizations that are appropriate for each musician and style.


How did you become multimedia artist? Where did you study? Did theory or practice influence you more?

I studied product design at the Hochschule für Gestaltung in Offenbach when i got into electronic music. I found out that for me the methods of music production were more interesting than actually making music on my own. I just couldn't decide for one final way to finish a track. There were too many possibilities. That let into building interactive music installations, where these decisions were up to the users of the installations. The music installations soon became multimedia installations as we incorporated graphics and video. You can still check these out at www.involving-systems.com. I was even able to finish my product design diploma with a drum computer software called brk_b.t, that would generate drum'n'bass music in realtime.


Frankfurt is the city where you live now. What is the atmosphere of this city for you?

The good thing about Frankfurt is, that you can actually work here without being distracted by too many interesting events :) If i would live in Berlin this would certainly be different. The town is pretty small, you can reach everything easily with a bike and at the same time it has the atmosphere of a big city with all the skyscrapers. I have a nice working space with a balcony and a skyline view. Although Berlin is still tempting sometimes, as half of my friends from Frankfurt moved there.


How did you come to label opening? Is there a team behind label?

We started a multimedia company called "meso" in 1997. We split in 2003. During the time it turned out that our original approach of doing artistic work and commercial work evenly spread was not working, as some of us worked more and more commercially. I wanted to have a separate label for my visual artistic work and that's how Dienststelle was born. It's just me here, except maybe Mathias Kohl, who gave the inspiration for the name, but doesn't really work here.


Which projects created by your label are among your favorite?

Thats difficult. In terms of prominence and aesthetic preferences probably the collaboration with Alva Noto & Ryuichi Sakamoto. I made this minimalistic music video "Trioon" for their first collaboration and as Carsten Nicolai liked it a lot he asked me to do the visuals for the Insen Tour in 2005. In terms of life experience it was maybe my least favourite, as i learned that it may be wise to make agreements before starting to work :)


What is your favorite tool for producing music visualizations?

I almost always use MaxMSPJitter. It's a graphical programming language by Cycling74. You basically program by connecting objects with patchcords.


What is the technology influence in your everyday life?

I breathe technology!


When you are giving your own lectures to students, which idea of music visualization you want to share first of all?

Make a concept, know your tools and keep it minimal.


Would you like to share some verbal, not visual, message of Neonlicht produced for sound:frame exhibition for the audience right now?

Not really, no. I don't take these things to serious. As I have grown up on a farm, I hesitate to call this kind of dissipation "work". It's just playing around, sometimes with an aesthetic outcome.