The Flood Panels
Leonhard Lass and Gregor Ladenhauf have titled their current series of works "Perpetual Verge". Both "Delta Aurigae" (comissioned by sound:frame) and "Glyph" (commissioned by the artist in residence program of subnet), two audiovisual installations realised in 2011, are also part of this body of work.
In the same vein that Depart want to signal a look for new horizons with their name, this series is a symbol for the boundary points to uncharted territory.
The series is distinguished by a neverending search, a careful approach to the unforeseen, the combination of the unknown and familiar surroundings, and the examination of format and scale. The term verge is also used as a word for a decorated gable in the English language, and so Depart know how to ornate and overload their works both from the inside and the outside with cryptic, partially out of context, symbolism.
Modernity has gone so far as to stylize ornamentation as a crime, to this day the stereotype epitome of modern design is a kind of cool, no-frills understatement. Clarity and candor are the desired hallmarks of a lasting impression. From their early days of collaboration, Depart have cherished the idea of a conscious overload and excessive ornateness in form and matter. A closer look at their works will almost always reveal a very playful approach. Depart are flirting with the idea of a collective subconscious, with the possibility arbitrarily linking and cross referencing materials, all the while recoding them. As part of a generation that was one of the first to grow up using the internet on a daily basis, the plethora of available information on the internet is a highly welcome playground for Depart. On the other hand they tend to show a nearly scholarly motivated thoroughness and no stone is left unturned when it is time to breathe life into a new golem of issues.
For this year's given framework at the sound:frame festival with the title "substructures", Depart have found a topic that can recurringly be found in their work. They show the audiovisual piece The Flood Panels, which deals predominantly with periodic movement. The tides, alongside the appearances of sun and moon and seasonal change (which are of course bound to local climate specifics) are one of the most archaic rhythmical structures in human life and perception besides the human body itself. At the same time, the flood is almost like an antagonist to the substructures of buildings and settlements built by human beings directly into or close to large bodies of open water. It is play- fully flowing around and scouring them, constantly challenging the structures' stability.
As a figure of speech, the flood in its biblical context is synonymous with new beginnings and also the survival of a chosen group of spe- cies. Given the gloomy doomsday warnings surrounding the year 2012, this topical analogy may be regarded as a rather cheeky com- mentary on the artists' behalf.
The ocean as a medium of the flood and source of all life on earth is another important factor in this virtual drama, with all its romantic implications and elemental force. As much as the oceans are, in modern times, utilized and used as the embodi- ment of recreation, sounded as hindrances for data connections and movement of goods and exploited as a food source and huge dumpster at the same time, they have always been seen as a symbol for the big unknown, deep-sea monsters and nature taking vengeance on man's disrespectful penetration of all environmental territories. In a time when tsunamis and flood disasters like in Indonesia or Japan seem to become order of the day it isn't surprising that a lot of indigenous island people are traditionally rather awestruck by the sea and its power.
In its adaptation by Depart, the flood is used as a macro-rhythmic time emitter, whose periodic movement is paradoxically mirrored and cyclically broken by arbitrarily programmed entities. Generative, abstract forms are continuously mutating, their evolution confronted by semantic gestures. A weird dance, a canonical change is constructed via convoluted rhythmic struc- tures and the interplay of specific elements, who condition and determine each other in partially chaotic coherence. The objects drift in some kind of mysterious limbo in their insular being at the verge of "beyond" and "beneath", motivated to synchronize, always looking for friendly forces to increase stability and find peace. But the oscillating power of time is constantly putting a spoke in their wheel. The audience is facing a bizarre love triangle of form, movement and change. Depart conduct their shipwrecked protagonists in this digital intimate bathtub play as they see fit and thus manage to elaborate a suspense between reincarnations, permutations and the futile pursuit of stability in empiric matters.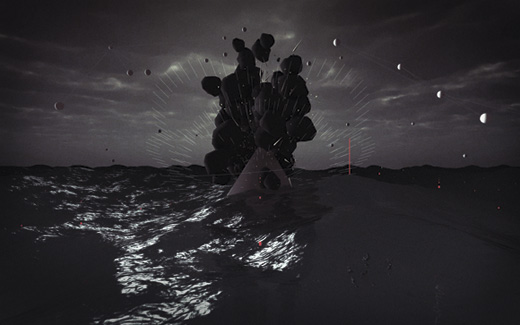 Depart
Leonhard Lass and Gregor Ladenhauf are Depart.
Their projects explore the depths of field between text, image and sound and range from interactive installation pieces to netbased applicatons, performances and A/V live shows.
With their personal approach to multimedia, Depart create unique moments that are coined by a formally rigorous and profound aesthetics. They unite precision and emotion in an abstract and multi-faceted discoball to mirror fragments of the audience's experience. Depart have a clear incentive: to leave you with an immediate, yet timeless mark. They would rather constantly depart than be stopped in their tracks, they want to remove themselves and their audience from within and out of the bound- aries of the self, the farther the better. For this purpose Lass and Ladenhauf have chosen the path of confusion and camouflage tac- tics, served up on a silver platter.
The works of Depart can be enigmatic in parts, quite often they are deliberately dark and dazzling at the same time and mostly contain a highly potent mixture of virtual mechanisms, poetic moments and hermetic symbolism.
Depart always wave the idea of a gesamtkunstwerk like a flag behind their backs always employing a certain kind of hocus-pocus, which in their opinion works as an immersion booster.
Nonetheless, Lass and Ladenhauf have managed to find a very individual style that is trademark- ing their works independently of the enabling technologies. They seem to integrate mythological, archaic content as effortlessly into their works as walking a very fine semiotic and semantic line along- side experimental poetry.
Thus reaching their declared goal, a kind of abstract poetry of the moment, they are able to bestow a certain kind of aura on their works that are increasingly taking the form of installation and object oriented projects. Depart are trying to tell stories, without talking too big and shooting their mouth off, all the more trying to be controversial to themselves.